Francisco "Frank" Montero is one of the Managing Members of Fletcher Heald & Hildreth, specializing in telecommunications, broadcasting, media and technology. Mr. Montero's practice includes FCC regulatory counseling, corporate finance, asset and securities acquisitions, intellectual property, and real estate and commercial transactions.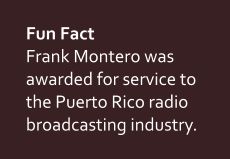 Mr. Montero was an appointed member of the Federal Advisory Committee on Diversity for Communications in the Digital Age. He served as Director of the FCC's Office of Communications Business Opportunities during the Clinton Administration. While at the FCC, Frank worked extensively with industry, trade associations, financial institutions and governmental agencies to create business opportunities for entrepreneurs, and technology and telecommunications start-ups and was recognized by the Chairman of the FCC for "dedication to bridging the digital divide".
Mr. Montero is well known as an early advocate for Hispanic and Spanish language media in the U.S. and Latin America. He is on the Board of Directors of the Minority Media and Telecommunications Council (MMTC). He also helped form and served on the boards of the American Hispanic Owned Radio Association (AHORA) , the Spanish Broadcasters Association and the National Association of Minority Media Executives. Frank is the Washington, DC legal representative for the Puerto Rico Broadcasters Association and received the Association's award for "service to the Puerto Rico radio industry".
Frank has been named to the list of "Top Washington DC Lawyers" by Super Lawyers.com and has been inducted to the Minority Media and Telecommunications Council's Hall of Fame. He has been recognized by Multichannel News to be among the top Cable TV transactional attorneys. Frank also serves on the Advisory Boards for Bloomberg BNA Now: Tech and Telecom and the Radio Ink Hispanic Radio Conference.
Mr. Montero studied law at the George Washington University Law School, where he served on the George Washington University Law Review. He did his undergraduate studies at the University of Michigan. He is admitted to practice law in the District of Columbia, New York, and Virginia. He is a former Co-Chair of the Federal Communications Bar Association's Transactional Practice and Professional Responsibility Committees. Frank is a frequent speaker at telecommunications and media industry conferences and writes on communications law, finance, commercial transactions and intellectual property for publications such as Radio and TV Business Report, Bloomberg BNA Telecom Law Reports and Radio Ink. Mr. Montero is fluent in Spanish.